For those comfortably into their fourth decade or more, we can recall a time where car model names were fairly manageable. Predominantly, you were shown the manufacturer's name, the model and then a classification beyond that of engine size and trim designation. Viz: Ford Escort 1.6 L. If you were a bit more flash and were being sized up for mid-level management, you might have a Ford Escort 1.6 GL. Steady on.
These days, there is a much broader range of variants and should a manufacturer elect to plaster the full description on the posterior, you would find them running out of space in fairly short order. The Skoda Fabia Monte Carlo, 1.2 TSi 110 DSG *breathe* is a case in point. Thankfully, Skoda did not attempt to decorate the car with a myriad of badges and they have left it to the public to discover the delights within. This particular car is a great example of a parts bin special. With Volkswagen's interesting system of platform sharing, this 3rd generation model of Fabia is based upon the newer PQ26 platform that is an evolution of the previous PQ25 and the newer MQB platform.
Skoda adopted the new platform in 2014, at the same time as it was inserted into the 5th generation VW Polo. One might reasonably expect Skoda to be held back to an older generation chassis, as we fight to suppress the thought that Skoda is the poorer cousin in the Volkswagen family. If we consider the essential parts for a vehicle we could conclude that Skoda have done rather well with this particular car.
The Fabia feels sturdy enough in construction, but there is a definite "lightness" in most things that you touch. The doors close with sufficient precision and there is enough 'give' in the door seals to prevent your worrying about doorglass shattering. There is still a slight "bong" noise, when the door is closed with some vigour – something small children are prone to do – and this confirms the thought that they have saved a little on the sound deadening material.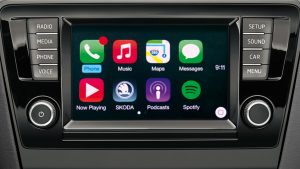 The dashboard looks pleasant enough and the general interior exhibits interesting angular lines carved into the door panels and culminating in intriguingly edgy door release handles. Woe betide anyone who actually feels the plastics, mind. They are hard and not pleasant to the touch at all. Stroking car interiors is not something most owners indulge in and so it can be forgiven for distinct improvements in other areas.
The action of the DSG gear lever is most satisfying and accurate. The 7-speed gearbox that it controls, is a thing of genius. When mated to the 110PS 1.2 litre engine, it pulls the Fabia along with great vigour and dispatching the 0-60mph drag in 9.4 seconds. When one considers that VW's Mk.3 Golf GTI 8V had 115bhp and listed its 0-60 at 9.8seconds, it is surprising that a standard model Fabia now has so much performance, out of the box.
In the real world, you find that the DSG gearbox fires through its gears very quickly and uses the 129lbft of torque to great effect. When settling at 40mph in an average speed limited zone, the Fabia is already into 7th gear and pootling along quite happily. If on less congested roads and you feel the need to press on, moving the gear lever into Sport will result in gears being held for longer on the way up and changing down earlier when slowing. It's not the last word in sophistication, but for a mainstream model there is plenty of performance and body control. There is still the minor hesitation of earlier DSG gearboxes but it is thankfully less marked than before.
With the modern drag of congested traffic, it's rather more important to consider the comfort of the car. The side bolsters of the front seats make for very comfortable chairs and there is plenty of scope to get comfortable with height and reach adjustment of the steering wheel. Annoyingly, one fly in the ointment is the steering wheel itself. Instead of a normal rounded profile, they have hacked away at the wheel and produced a flat-bottomed and sculpted profile that is phenomenally uncomfortable to hold. Eventually, you can adopt a grip to alleviate this but this is one instance where the design was not for the better.
If you can ignore the rather garish red and white on otherwise charcoal grey cloth and the darker red of the centre console, the interior is a perfectly acceptable place to spend multiple hours. The piece de resistance is the infotainment system. This standard Bolero system has an SD card slot, hidden in the glovebox that can support up to 128Gb cards. That is a LOT of MP3 files. Interestingly, it can even read some video files, but it will only play the audio track. No amount of fiddling will allow the picture to be displayed on the 6" touchscreen. DAB radio is also included here. Whilst it is still rather frustrating to find the DAB radio station you want, the touchscreen does make it a little easier than other implementations.
The king of this system is the standard Smart Auto feature. The USB socket allows a compatible Android device or Apple iOS device to be controlled from the head unit. This is a work of genius, since your Infotainment is upgraded as and when new features are presented to your smartphone. I have only used it with a variety of Apple devices so far (since my Android Nexus 7 tablet refused to connect), but the delight of discovering a new feature is marvellous. Any iOS apps that have been correctly coded will automatically appear as an icon on the display. Audible and, most recently, BBC iPlayer Radio have appeared without any additional cost or intervention from Skoda. Switch on the "virtual subwoofer" and you have a perfectly acceptable sound system to soothe away the cut and thrust of modern traffic congestion.
The final discovery is that the London Aquarium must be missing one of their large glass walls. Instead of it holding back thousands of gallons of water and a variety of brightly coloured fish, Skoda installed it over my head as one of the largest panoramic glass roofs you are ever likely to see. It is neatly covered by two roller blinds that meet in the middle, but when rolled apart you are inclined to fear for the structural rigidity of the car as whole. There is no metal overhead at all! There are no clumsy bars across the centre to impede the view of circling vultures or pigeons. Admiring the soaring architecture overhead is something one can indulge in whilst stuck at another set of traffic lights. Naturally, it lends a lovely airy feel to the whole cabin and should brighten the mood of any S.A.D. sufferer.
For a "middle of the road" car, ownership has been quite delightful.